1.
General course of Slovak

---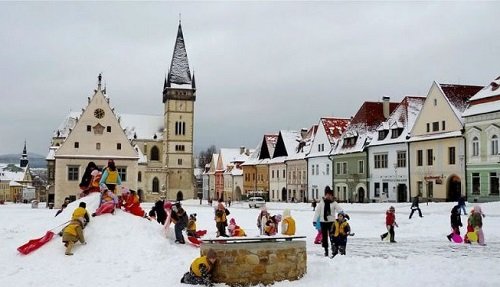 Distinctive features of studying with us:
Our experts are active translators (including simultaneous interpreters) and, respectively, practicing Slovak at high level.
The possibility to be trained directly in our "translation bureau" office.
The course duration varies depending on your initial level of knowledge of the Slovak language and perception ability. In other words, we adapt learning process to you, not vice versa!
To date, the frequency and time of the courses at our "Translation bureau" may also be adjusted flexibly enough after consultation with the students.
Price for Slovak language studying is fairly affordable and acceptable for the majority of those who want to master it.
We provide effective assistance in training to go to foreign educational institutions.

10

years
Slovak language has quite logical grammar, with many words similar to Ukrainian and Russian, so learning it by taking courses at our translation bureau is easy enough. Possibility to take courses in mini-groups of 4 people or individually, makes our educational system even more effective. In the course of the study you will learn the correct pronunciation and sentence structure, grammar of the Slovak language, have some practice in written translations of texts on different subjects.
At your disposal will be manuals and professional translator - a native speaker, making emphasis on the correct approach to studying, correct pronunciation with high performance. The main principle of our Slovak courses is the practice of live communication with the teacher, who has a complete command of Slovak. You will have a chance to save time and get pleasure from the acquired skills and results.
Slovak courses for business
Depending on the thematic focus of your activities in business, you, in the course of the learning process, will focus on the formation of communication skills in the appropriate situations: telephone conversations, meetings, negotiations, etc., and learn how to:
Understand by ear the Slovak language;
Conduct business negotiations;
Read without a dictionary;
Speak Slovak using terminology of your business;
Discuss topical issues in politics, economy and other spheres;
Give presentations in the Slovak.

The cost of the Slovak language courses you can find on the corresponding page, where we try to display the current price for all our translation services and training.